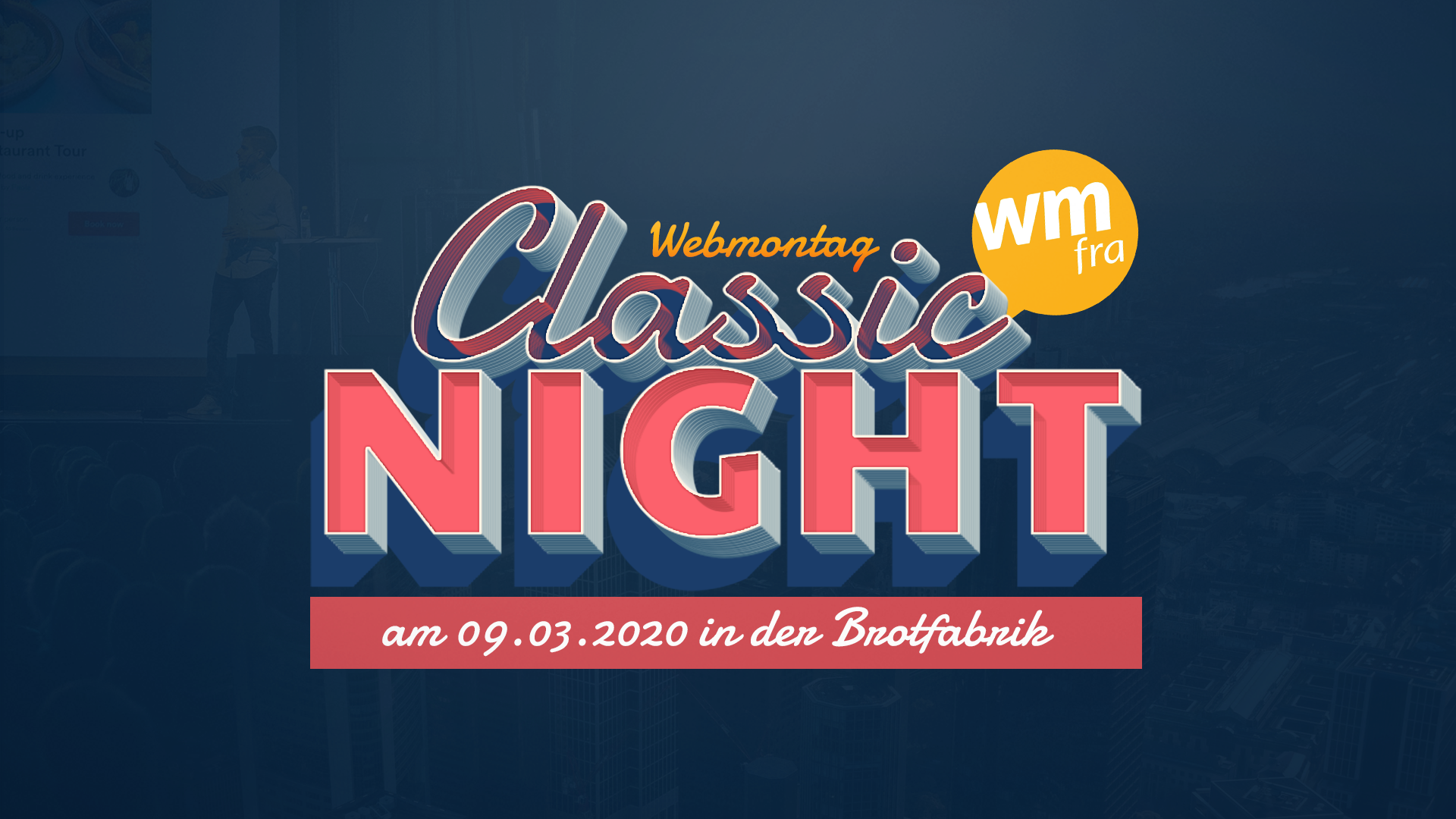 Am 9. März 2020 haben wir die 103. Ausgabe des Webmontag Frankfurt mit dem folgenden Programm veranstaltet:
"Getting Intimate with Alexa – Best Practices of Conversational Design"
Dan Fitzpatrick
"#humansconf"
Benjamin Reitzammer
"Clean Coding – Wie sauberer Code dein Projekt rettet"
Timo Körber
"right. based on science"
Hannah Helmke
"Virtual Reality – Eine soziale Technologie?"
Fabian Rücker
"Grundlagen des Storytelling: Heldenreise und Monomythos."
Tim Karsko
"Check24 Meetups"
Annemarie Vogel
"YeneGuzo – Trip Planner für Äthiopien"
Alexander Menk
"#neuland"
Tine Nowak (vertreten durch Anna Domascan)
"Computers aren't like humans: Computers need love. Warum Jugendarbeit anders ist."
Jochen Stärk
Moderation: Til Becker
Die Fotos des Abends wurden von Andreas Söntgerath aufgenommen.
Die Talks des Abends finden sich in unserem YouTube-Channel, oder direkt hier:

#wmfra 103 #Classic - Dan Fitzpatrick "Best Practices of Conversational Design"
#wmfra 103 #Classic – Benjamin Reitzammer "#humansconf"
#wmfra 103 #Classic – Timo Körber "Clean Coding – Wie sauberer Code dein Projekt rettet"
#wmfra 103 #Classic - Hannah Helmke "right. based on science"
#wmfra 103 #Classic - Fabian Rücker "Virtual Reality – Eine soziale Technologie?"
#wmfra 103 #Classic - Tim Karsko "Grundlagen des Storytelling: Heldenreise und Monomythos."
#wmfra 103 - Alexander Menk "YeneGuzo (umbenannt in AddisMapTransit) – Trip Planner für Äthiopien"
#wmfra 103 #Classic – Anna Domascan –"#neuland"
#wmfra 103 #Classic - Jochen Stärk "Warum Jugendarbeit anders ist."